Basic analysis of select variables at Medinet Habu
Although frequency reports are quite basic and easy to accomplish, they can quickly reveal general tendencies; furthermore, as stated in a previous post, frequency reports are the easiest to understand.
For instance, of the 523 scenes where the king is depicted presenting an offering, 117 of those are incense offerings, while far fewer show him presenting milk (8) or cloth (4).
Offering incense: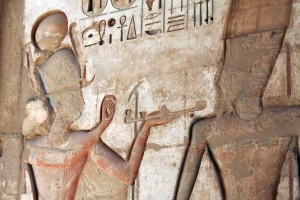 Another widespread usage pattern can be noted in comparing the two main types of apron worn by the king—one that shows two cobras at the bottom facing out ('flanking') and the other with a frieze of cobras at the bottom ('multiple').
Flanking apron: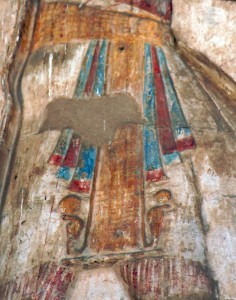 Multiple apron: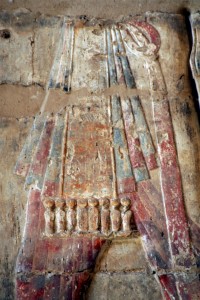 There is a marked tendency towards the 'flanking' type, which appears in 441 of the scenes, compared to the 'multi', which is used in only 77.
Most scenes depict one of three elements hovering over the king's head: a disc, a vulture, or a falcon. Although it is still uncertain why one element was chosen over another, the frequency pattern shows the disc being used 338 times, the vulture on 203 occasions, and the falcon in only 42 instances.
Disc: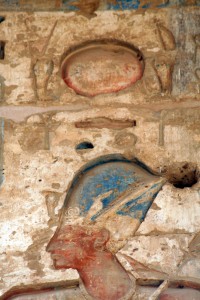 Vulture: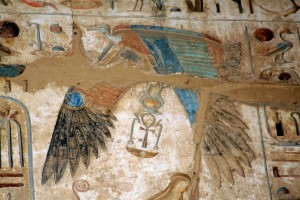 Falcon: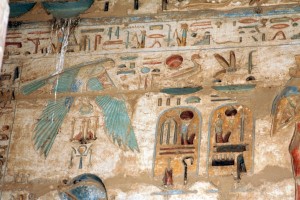 This process of determining frequency also has the benefit of quickly highlighting unusual elements, such as the 31 scenes that show the king in contact with a deity out of the 653 scenes where deities are present.
Contact with deity: